New requirements of minimal efficiency level of asynchronous induction motors
The development of broadly perceived industry must not cause any harm to the natural environment. Numerous restrictions concerning emission of harmful gases which results from side processes of energy production (e.g. from coal) stimulate us to search for new sources of energy (esp. renewable source) as well as improve existing devices and industrial processes in order to curb consumption of produced energy. Additional factor which determines above-mentioned actions is a significant rise in demand for electric energy compared with our capacity to produce it.
Approximately 50% of electric energy produced for example in Poland is consumed by driving systems with induction motors. Due to this fact, usage of energy-efficient driving systems equipped with high efficiency induction motors may result in limiting aforementioned negative effects of development as well as ensuring quantifiable savings for its user.
Motor efficiency classes.

The basic rate indicating expected savings arising from use of energy-efficient motors is their efficiency related to efficiency class. In the territory of the European Union, division of induction motors from the perspective of efficiency is performed employing IE classification (International Efficiency) according to EN 60034-30-1:2014 standard.
The classification of a motor to a particular efficiency class is performed by comparison of the motor's efficiency calculated according to a method set out by EN 60034-2-1:2007 standard to minimal efficiency of a particular IE class.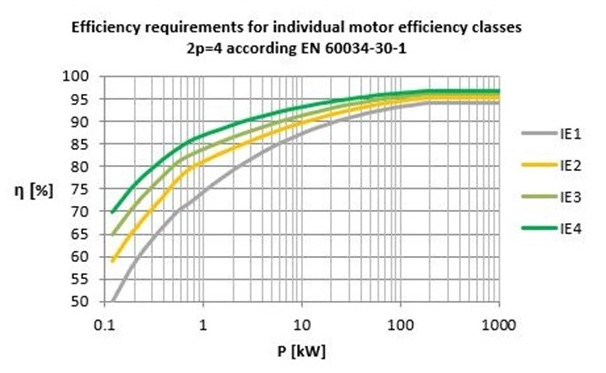 It should be underlined, that EN 60034-30-1:2014 standard defining efficiency classes of motors (IE) and minimal efficiency values assigned to them, as all other standards, is a document for voluntary use - legal (obligatory) requirements regarding minimal efficiency level for induction motors being introduced on the EU market are specified in a European Parliament and Council Directive and related Regulations.
New European Commision regulation.

In October, 2019, the European Commission published a new Regulation 2019/1781 (which repeals the Regulations 640/2009 and 4/2014) concerning minimal efficiency levels of induction motors as well as variable speed drives that are being introduced on the EU market. The subject Regulation connected with European Parliament and Council Directive 2009/125/WE defines not only minimal efficiency values and efficiency classes associated with them (compatible with IE efficiency classes defined in EN 60034-30-1:2014 standard), but also it defines motor characteristics which are subject to the Regulation (there are certain exclusions).
New Commission Regulation EU 2019/1781 regarding minimum efficiency of electric motors – scope of validity

Type of motors

general purpose

with gear

with external brake

explosion-protected

Voltage

50V ÷ 1000V

Frequency

50Hz, 60Hz or 50Hz/60Hz

Rated power

0,12kW ÷ 1000kW

Duty

S1, S3≥80 %, S6≥80 %

Number of poles

2p=2, 4, 6, 8

Efficiency class

IE2 (high)

IE3 (premium)

IE4 (super premium)

Ambient temperature

-30°C ÷ +60°C

Cooling water temperature

(for motors with water cooling)

0°C ÷ +32°C

Altitude

till 4000 m a.s.l.

Motors excluded from new Regulation

multi-speed, slip-ring and with mechanical commutators

motors completely integrated into a product whose efficiency cannot be tested independently from the product

motors with an integrated variable speed drive (compact drives) whose efficiency cannot be tested independently from the variable speed drive

motors with an integrated brake which forms an integral part of the inner motor construction and can neither be removed nor powered by a separate power source during the testing of the motor efficiency

motors specifically designed and specified to operate wholly immersed in a liquid

motors specifically qualified for the safety of nuclear installations, as defined in Article 3 of Council Directive 2009/71/EURATOM

explosion-protected motors specifically designed and certified for mining, as defined in Annex I, point 1 of Directive 2014/34/EU

motors in cordless or battery-operated equipment and motors in hand-held equipment whose weight is supported by hand during operation

motors in hand-guided mobile equipment moved while in operation

Totally Enclosed Non-Ventilated (TENV) motors

motors placed on the market before 1 July 2029 as substitutes for identical motors integrated in products placed on the market before 1 July 2022, and specifically marketed as such

motors designed specifically for the traction of electric vehicles
The new European Commission Regulation 2019/1781 introduces several changes and challenges for induction motor manufacturers and their users. The most important is obligatory efficiency in IE3 class for explosion-proof motors (excluding motor for mining industry), specification of minimal IE4 efficiency class for motors with power range from 75kw up to 200kW and introduction of IE3 level for motors supplied from VFD power supply (exclusion of the possibility to introduce on the market IE2 efficiency class motors supplied by VFD)– detailed requirements along with due date are listed in the below table.
Type of motor

Efficiency class

General purpose motors

Ex motors except motors for mining

Increased safety

(Ex eb)

Others

3-phase

IE2

2p = 2, 4, 6, 8

&

0,12kW ÷ <0,75kW

2p = 2, 4, 6, 8

&

0,12kW ÷ 1000kW

N/A

from 2021-07-01

from 2023-07-01

IE3

2p = 2, 4, 6, 8

&

0,75kW ÷ 1000kW

N/A

2p = 2, 4, 6, 8

&

0,75kW ÷ 1000kW

from 2021-07-01

from 2021-07-01

IE4

2p = 2, 4, 6

&

75kW ÷ 200kW

N/A

N/A

from 2023-07-01

1-phase

IE2

≥0,12kW

from 2023-07-01
The subject Regulation (EU) 2019/1781 referring to minimal efficiency level also defines requirements for Member States pertaining to verification of energy efficiency of motors available on the market and guidelines for manufacturers on technical documentation attached to the motors.
Full content of the Regulation is available on the European Commission's website.
Based on an analysis carried out by the European Commission, it has been estimated that the subject induction motor efficiency requirements (defined by the new Regulation) would lead to limitation of annual electric energy consumption by approximately 10TWh and decrease of annual greenhouse gases emission by 3 Mt equivalent of carbon dioxide to year 2030.
Prepared by: mgr. inż. Adam Owczarzy