UZ - Supply and control circuit for ...ZEM release
APPLICATION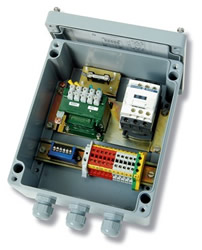 Supply and control circuit type UZ is designed for powering electrohydraulic release type ZEM of mechanical size 500 to 3200 provided with electromagnet, produced by Fabryka Aparatury Elektrycznej EMA-ELFA Sp. z o.o. in Ostrzeszów. The circuit operates on three-phase AC.
After feeding voltage to the supply circuit, voltage of 42VAC appears on the auxiliary contacts of the contactor causing energizing of the main contacts and feeding of voltage to the release. In release ZEM, the hydraulic pump motor gets started causing advance of the piston and the attached piston rod of the release to the top position, simultaneously voltage of 38VDC is fed to the electromagnet coil situated in the release, through the contacts of the limit switch located in the release.
This breaks the circuit of the contactor auxiliary contacts, interrupting its main contacts and switching off the release motor.
From now on, piston rod of the release is held in top position exclusively by the electromagnet.

OPERATING CONDITIONS

The supply and control circuit is adapted for operation in temperate climate zone on land, in open air N/1 according to PN-68/H-04650 in ambient temperature range from -25C to +40C.
The circuit possesses casing of protection rating IP66 according to PN-EN 60529:2003.
To download the catalogue click HERE