3SIE series | Three-phase "IE3 Premium Efficiency" motors with squirrel-cage rotor
One speed general purpose motors with Premium Efficiency IE3 according to IEC60034-30-1 standard and Commission Regulation (CE) No 640/2009, 4/2014 requirements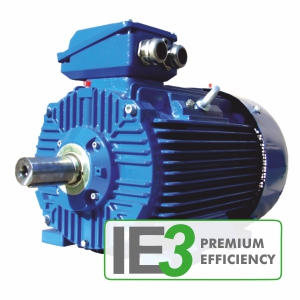 CATALOGUE VERSION
| | |
| --- | --- |
| Efficiency class | IE3 |
| Operating duty | S1 |
| Rated voltage | 400V |
| Frequency | 50Hz |
| Synchronous speed | 3000, 1500 or 1000rpm |
| Insulation class | F |
| Degree of protection | IP55 |
| Ambient temperature | up to +40°C |
| Mounting arrangement | IM1001 (IMB3 - on feet) |
OTHER NON CATALOGUE VERSIONS ARE AVAILABLE ON REQUEST
Our IE3 Premium Efficiency Motors for general purpose are designed and produced to provide maximum benefits to the customer. IE3 efficiency motors are according to energy regulations. Advantages of IE3 motors are low vibration and noise level, durability, easy maintenance and long bearings life. Thanks to these advantages IE3 motors are used for applications like pumps, ventilators, conveyors in many industrial sectors. 3 phase induction motors can be used also in: operational machines (turning, grinding, milling, drilling, boring, planning machines, etc.), cranes, ventilation systems, mixers, washing machines, pumps, conveyors, etc.
Motors in efficiency class IE3 the "3SIE" series, following the new construction project "SIE", provide more efficient motors in that construction with the maximum level of compatibility on old machines.
IE3 motor efficiency level is now minimum level in European Union and many countries in the world. IE3 efficiency motors since 2017 has been regulated by energy efficiency IEC 60034 regulation.
Cantoni Group IE3 efficiency table can be found here in our IE3 catalogue.
If you need table with minimum motor efficiency classes for 50 Hz defined by IEC/EN 60034-30-1:2014, IEC 60034-2-1:2014 please click here.
If you are interested where to buy IE3 motor please contact Cantoni Motor on following contact page.