EXPLOSION PROOF MOTOR WITH PRESSURIZATION SYSTEM
In August 2016 EMIT delivered Explosion Proof Motor with Pressurization System to SIAD Macchine Impianti S.p.A.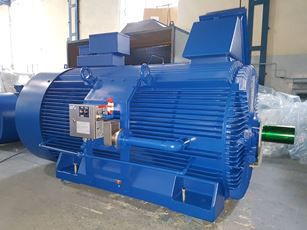 The motor delivered to SIAD Macchine Impianti S.p.A. is Medium Voltage Explosion Proof Motor with Pressurization System.
Basic parameters are as follows:
Rated power [kW] 250
Rated speed [rpm] 497
EX characteristic Ex eb pxb IIC T3 Gb
Voltage [v] 6000
Freqency [Hz] 50
Efficiency [%] 95,2
Ambient temperature [°C] -20 - +52
Insulation class / temperature rise F (VPI) / B
Cooling system IC411
The principle of a pressurized apparatus Ingress of a flammable gases is prevented by maintaining a protective gas, inside the enclosure, at a higher pressure than the surrounding atmosphere. As long as this positive pressure is maintained, no gas (or even dust) will be able to enter the enclosure. Motor's housing is purged prior to pressurization in order to ensure that potentially explosive gases do not occur in the housing.
The motor is equipped with certified system which is responsible for purging process and for creating and maintaining positive pressure inside motors housing. In case purging cycle is not completed or if the enclosure pressure drops below the specified pressure the motor will not be energized.