2SIE series | Three-phase "IE2 High Efficiency" motors with squirrel-cage rotor
One speed general purpose motors with High Efficiency IE2 according to IEC60034-30-1 standard and Commission Regulation (CE) No 640/2009, 4/2014 requirements.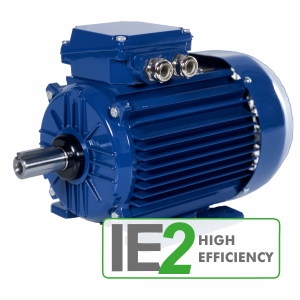 CATALOGUE VERSION
| | |
| --- | --- |
| Efficiency class | IE2 |
| Operating duty | S1 |
| Rated voltage | 400V |
| Frequency | 50Hz |
| Synchronous speed | 3000, 1500 or 1000rpm |
| Insulation class | F |
| Degree of protection | IP55 |
| Ambient temperature | up to +40°C |
| Mounting arrangement | IM1001 (IMB3 - on feet) |
OTHER NON CATALOGUE VERSIONS ARE AVAILABLE ON REQUEST MOTORS SOLELY FOR FREQUENCY CONVERTER SUPPLY
Similarly like Cantoni IE3 motors, series of IE2 efficiency motors (High Efficiency) are used for various applications like ventilators, pumps, conveyors as well as cranes, washing machines, mixers.
Cantoni Group motors in efficiency class IE2, "2SIE" series, based on the new flexible construction, meets all requirements of the most demanding customers both on electrical and physical parameters and special executions.
Cantoni Group IE2 efficiency table can be found here in our IE2 motor catalogue.

If you need table with minimum motor efficiency classes for 50 Hz defined by IEC/EN 60034-30-1:2014, IEC 60034-2-1:2014 please click here.

If you are interested where to buy IE2 motor please contact Cantoni Motor on following contact page.